Restaurant & Wine Bar
Wild & Native is a multi award winning restaurant in Wexford. Along with being top rated on TripAdvisor, rated at 4.7 on Google, and being a renowned restaurant for good food, we're passionate about providing the best in local produce with carefully crafted seasonable menus, all at reasonable prices. We don't take bookings so all walk in. Do not worry we do have 23 indoor tables and 4 outdoor tables so we have plenty of space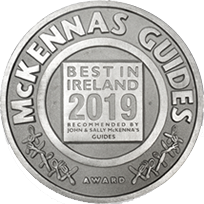 Inspired by Nature, Consumed by Flavour
We've made some changes
Why has our menu changed you ask? We loved what we did when we were fine dine but sadly our bank balance didn't. We had to change to survive within the industry. We wanted to create a new menu that was slightly more affordable and less of an occasional treat and more of a regular one.
Wild & Native
Our Cuisine
We source our products locally where possible. This includes foraging for herbs, delicacies and garnishing.
Quality Ingredients
We take pride in the quality of our ingredients. We don't cut corners and it's one thing that makes us stand out.
Award Winning
We've won multiple awards that recognize the hard work and effort we put into our restaurant & wine bar.
Exciting Menu
We change our menu regularly, in line with the freshest seasonal foods. Check out our sample menu for a preview.
Reaching Heights…
The Wild & Native Story
Jodie & Fergal first met in 2009 and started searching for a property for Fergal to take on himself. We then chose a property in Rosslare Strand for the whole family (2.3 children) to get to grips with. Wild & Native Restaurant was first established in March 2016.
Chef Fergal Dempsey first trained in The Great Southern Hotel in Rosslare, County Wexford. A the young age of 19 he took a head chef position at The Tara Hotel in Amsterdam.
Testimonials
Customer reviews
"Once again Fergal and Jodie are making the customers happy with both delicious and top quality dishes and smiling and welcoming staff! The renovations to the building are fantastic and it still retains the relaxed atmosphere.
Always enjoy our visits and will continue in the future."
Alison Vickers
"Fabulous food at Wild & Native. Had a last minute weekend away in Rosslare so everywhere was booked up. Checked online early that morning and got a cancellation. Food was fantastic, waitress was really attentive and very good at her job. They also had an alcohol free drinks list that offered more than the usual token beer. That's a huge step ahead of most restaurants. Thank you for great food and great service."
Kerry Ennis
"One of the best Seafood restrarunts I have been to. Very nice staff and gorgeous food. You can straight away feel the freshness of the sea food. Very busy so I will recommend you take reservations to avoid disappointment. No dedicated parking spaces, but you can always park at the driveway or use the strand car park."
Harikrishnan
"The food here is amazing. It's around 30 euros a main course, but absolutely worth it! This place is brimming with artwork, one of which is due to be sent to the moon (artwork by Jackie Edwards). Unfortunately I didn't take any photos but had an incredible time fine dining with my parents. The staff were very friendly & the atmosphere was buzzing. Oh those Ling fillets were delicious & the complimentary vegetables were divine. Carrot cooked with leek, oh so yummy!!"
James Lucey
"Best meal we have had on our vacation! This is a real treat. There is food for everyone. Highly recommend the Wagyu burger and the Avocado, Endame and Wasabi dressing salad. There are also several seafood dishes. Would recommend the Cajun salmon and Fish Gougons. The service staff is excellent! They had wonderful recommendations for wine pairings. Will definitely return and would highly recommend!"
CK
Visited us recently?
Share your experience, or view previous reviews
Functions & Events
Do you have a special event coming up? Need a special place to hold it in?
We've got your covered. Contact Jodie by email at contact@wildandnative.ie, or visit the reservations page where you can submit a provisional booking request online.
Note: We have plenty of room in our premise for walk in service for couples or small families. Reservations are not required.
Vouchers
We have vouchers available for purchase in our restaurant. Alternatively you can use the following link to purchase online:
What denominations do you offer?
Our vouchers are available for any amount, from €20 upwards. You can specify the amount you wish.
How long are the vouchers valid?
Our vouchers are valid for 5 years from date or purchase.
Do you ship the voucher if I purchase online?
We do ship the vouchers if located in Ireland. Be sure to include the address after selecting the option "Mail" and also include the address where you would like the vouchers shipped to. There is a small postal fee. This online purchase feature will be available soon.
Our Awards

Wild and Native Seafood Restaurant are proud to be recognised for our commitment to bringing fabulous local food. Below you can see just some of the accolades we have been honoured with:
Best Seafood Restaurant – National Hospitality Awards 2019
Best Local Restaurant – National Hospitality Awards 2019
Best Seafood Restaurant – South East Hospitality Awards 2019
Best Dining Experience – South East Hospitality Awards 2019
Best 'Free From' Menu in Wexford – Restaurant Association Regional Awards 2018
Best Seafood Ireland – Yes Chef Awards 2018
Best Seafood Leinster – Yes Chef Awards 2018
Best Newcomer – National Gold Medal Awards 2017
Best Casual Dining in Leinster – Restaurant Association National Awards 2017:
Best Casual Dining in Wexford – Restaurant Association Regional Awards 2017
Best Restaurant in Leinster – Yes Chef Awards 2017
South East Hospitality Awards 2016: Seafood Restaurant of the Year